"I realised what a great honour it was to be creating images and visuals for songs that millions of people had already heard and loved…"
From the days of Eric's Club through to the creation of The Pink Museum and the OMD video projections, Hambi Haralambous has carved out an exciting and varied career on the Liverpool music scene.
In this interview, which took place in 2008, he discusses his time as part of Hambi And The Dance and Tontrix, the early days of the Motor Museum and the recording of Sugar Tax and insight into how he crafted the video projections used for The Energy Suite and OMD's live shows…
---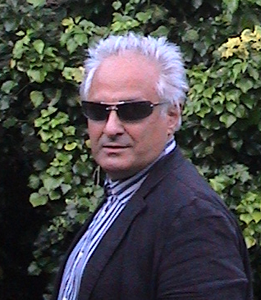 What do you recall from your days of being part of acts such as Tontrix and Hambi And The Dance? Do you miss being out of the music scene as a performer?
The abiding memory of the late 70s and early 80s as a performer was that anything was possible. The spirit of the Punk revolution spread quickly throughout Liverpool, and was personified by the opening of Eric's, a club that presented International and National acts and allowed local artists a platform to launch themselves from. The vision of future stars like Julian Cope walking up Hardman Street in his newly adopted knee-length leather boots, talking about last nights band at Eric's, against the backdrop of a wall which someone had freshly sprayed The Clash on in huge lettering, feels as though it was yesterday.
The competition between the bands was fierce and the next stage after appearing at Eric's was to try and get a recording contract. Tontrix appeared on the famous Street to Street album alongside acts like Echo & The Bunnymen, and The Id, and then released a single called 'Shellshocked' and 'Slipping Into Life' before disbanding. Every time a band broke up members were quickly sucked up into existing bands or went out and formed a new band – as was the case with Mike Score who formed A Flock of Seagulls and surprised us all by writing great electronic pop songs, and becoming massive in America. It was at this time that a young schoolboy called Guy Chambers joined the band and performed live with Tontrix at the Everyman Bistro. He later joined Hambi & The Dance to tour and promote the Heartache album.
One of the greatest things about all of this was the ability to create something that didn't exist, the song. Even then the thrill of writing a song, regardless of whether it would be sold or become successful, was amazing.
Can you talk a little about your background with the Pink Museum (as it was called then) and Andy's later involvement?
The Pink Museum evolved from the The Pink Studio, which began life in the basement of a large old Victorian villa in Ullet Road overlooking Princes Park. It started out as Tontrix's exclusive rehearsal room, but gradually we let bands like Dead or Alive and Frankie Goes to Hollywood use the other rooms to rehearse. It was during this time a friendship developed between Holly and Steve Lovell who would later produce Holly's solo albums. Steve was in the first version of Frankie Goes to Hollywood, along with Ambrose Reynolds, before rejoining Hambi & The Dance. The name was taken from a newspaper article about Frank Sinatra going to Hollywood that was pinned up on their rehearsal room wall.
After Tontrix broke up I turned the rehearsal rooms into a four-track studio with a playing area and a control room. It was during this period that the first version of Hambi & The Dance was formed with Wayne Hussey on guitar, the two Paul's on bass and drums, and Steve Power mixing and playing keyboards from the desk. Steve Power began his apprenticeship as an engineer and producer and Mike Score brought in his new band A Flock Of Seagulls to record. During this time Chris Hughes (Tears for Fears, Adam And the Ants) became a friend coming to Liverpool to record some demos and play with us. After a year Wayne decided to leave with two Paul's calling themselves, & The Dance, so I linked up with Steve Lovell again, recruiting Gary Johnson (later of China Crisis) on bass and Les Hughes on drums.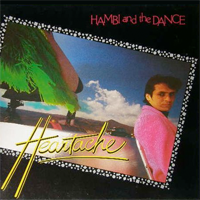 It was this band that was signed to Virgin Records in 1981. Using the advances from Virgin, the four track was transformed into a really swish 16 track under the supervision of Phil Newell, with a 2inch tape, and a desk that had been one of a pair, that Mike Oldfield had used to record Tubular Bells with. Mick Glossop produced the first Hambi & The Dance album, called Heartache, arriving in Liverpool just as the Toxteth riots flared up. After the album was completed we went on tour joined by Guy Chambers on keyboards and the studio opened its doors for other bands to use, and became a professional facility. I guess it was Liverpool's first professional recording studio, even though Amazon studios existed they were located miles out of the city in a place called Kirby.
Unfortunately after the release of Heartache and the poor sales it generated, Virgin didn't want to front the advances for the next album. They proposed to put me on a weekly wage and release some more singles before committing to the next album. This didn't work because we needed the next advances to finish paying for the building of the studio, so we parted company in 1983. I then began working with other musicians in the studio, including Phil Coxon who played keyboards on some demos for me. Phil later produced a song called 'Seeds' by an artist I managed called the Sunlight Experience, that was one of the best things to come from the studio that was never a hit. I then signed a deal with MCA for two singles which didn't happen, before signing to an Italian label called Durrium Records. The album called Promises was recorded in the Pink Studio with Lee Marles, on guitar and Dave Dix engineering. We then went to Bologna to mix the album.
During my time in Italy with Lee Marles, I lost the lease on the studio at Ullet Rd, due to my solicitor's negligence, and was given notice to quit. I was devastated at the time but this would turn out to be a godsend.
On my return to Liverpool in Feb of 1987, I had to make a big decision whether to put my energy into my career, or find a new place to house the studio. I spoke to Will Sergeant from Echo & The Bunnymen who lived above me with Les, Jake, and Pete. They were all motorbike fanatics and had visited a place in Lark Lane that most other people didn't know existed. It was the Lark Lane Motor Museum that had been built by Jim and Jane Baxter, but unfortunately because of its location away from the city centre, it was struggling to get people through the doors, and was about to close. I proposed the idea of a recording studio to them and they initially seemed keen. It took nearly a year to put the plan together, but just before the work began Jim and Jane dropped out. I was forced to go it alone with help from the Merseyside Enterprise Board, the DTI, and the bank. I also got some unexpected help from my former solicitors who I sued for negligence because of the loss of my lease. It turns out the person handling my case had suffered a nervous breakdown, and had failed to respond to the papers served on us. They eventually settled for £20k, which was immediately sucked up by the studio.
Phil Newell the former Virgin Director who had built Virgins Manor and Townhouse studios and the original Pink was contacted to build the new studio. Phil was responsible for creating those big sounding drum rooms that Phil Collins made famous on 'In the Air Tonight'. Phil was also very eccentric and just the person to work with me on this rather crazy project. I say this because anyone who wanted to build a recording studio at this time had to be a little crazy. Amazon also moved into town a year later but was bankrupt within twelve months, eventually becoming Parr St studios.
The Pink Museum was finally opened in May 1988 and with its opening came the end of my recording career. Aswad were the first customers followed by Liverpool FC who recorded the 'Anfield Rap', the first hit from the new studio. The rest of the year was a little patchy booking wise because suddenly people were writing hits in their bedrooms on computers of all things. This revolutionised the music industry much in the same way as Punk had done in the seventies. It was during this time that I was approached by Lloyd Masset to come and see a band he had put together called Raw Unltd, which featured Stuart Kershaw amongst others. The band broke up but Lloyd and Stuart stuck together forming a three piece with Nathalie Loates writing Pop R&B Rap songs.
In January of 1989 the La's came into the studio for three months and things began to look up. Then we had a call in July that OMD wanted to book the studio for a month. Although I had bumped into Andy McCluskey and Paul Humphreys on numerous occasions at DinDisc on the Portobello road in 1982, it was at one of Richard Branson's parties at The Manor in Oxford that we first met socially. After this our paths rarely crossed because I guess they were always successfully recording and touring. I remember the first time Andy walked into the studio I could see the look of bewilderment on his face as he looked around at this beautiful yet strange building.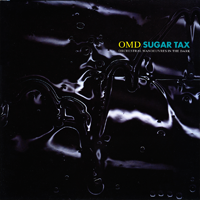 Unfortunately the session did not go well because whilst Andy was working in the Pink, Paul, Mal and Martin had booked Amazon to write their own songs. At the end of the month it had become clear that Andy and the rest of the band had split. This was a distressing time for Andy whom I had become close to during his time in the studio. During the months that followed, I tried to encourage Andy to work with younger writers especially Stuart and Lloyd but it wasn't until six months later when he heard 'Romeo and Juliet', a track they had recently recorded, that he agreed to have a jam with them. Well the rest is history. They wrote six of the songs for Sugar Tax in two or three days of jamming, and spent the rest of the year recording Sugar Tax in the studio. The high point of all of this was sitting in the car at Portmeirion in Wales, listening to the Radio 1 chart rundown, when 'Sailing On The Seven Seas' entered the charts at number three. Towards the end of the session while Andy was busy mixing the album, a tour was looming so I introduced him to Abe Juckes, Phil Coxon and Nigel Ipinson, who were to become the new live members of OMD. Except for Abe who was replaced by Stuart on drums, this relationship continued until OMD stopped recording and touring, when Andy was told that Radio 1 would no longer play his records.
A lot of bands and artists have recorded at the Motor Museum. There must be lots of stories and anecdotes. Do any in particular stand out?
Bands like The Christians, It's Immaterial, Dead or Alive, The Farm and Frankie Goes to Hollywood, amongst many others, used the Pink Studio in Ullet Rd over the coming years mainly for demos and B-sides. PJ Proby recorded 'Love Will Tear Us Apart', on one of their many marathon sessions with Gary Wilkinson engineering.
It was Black who recorded the first big hit in The Pink Studio in 1984 recording 'Wonderful Life' and 'Sweetest Smile' with Dave Dix over a weekend. I had met Colin Verncombe in Lark Lane looking rather depressed at having been dropped by Warner Bros. Black had toured supporting Hambi & The Dance as had Frankie Goes to Hollywood, with Paul Rutherford singing backing vocals for me before joining Holly, so I invited Colin to come and use the studio. My intention was for free, but he rang me a week later saying he had £200 to spend. The session was arranged for the weekend that I would be away in Italy, meeting the new label I was signing to called Durrium.
On my return from Italy I heard 'Wonderful Life', and 'Sweetest Smile', and remember the excitement from Dave Dix knowing they had done something special. Colin's school friend then set up a label to release 'Wonderful Life', which suddenly began getting played on Radio 1, eventually selling over twenty thousand copies. The band where then signed to A&M and recorded an album attempting to re record the two tracks about three times. They eventually released the Pink versions of 'Wonderful Life' and 'Sweetest Smile' adding a little percussion to the original masters, both songs going top ten.
After moving to the Pink Museum in Lark Lane, the other significant event was the arrival of a young band called Oasis. The Real People had been telling me about them for the last six months. I had decided to manage The Real People, one of the many bands who without any money or management were encouraged to develop through the studio, and they kept telling me about their mates from Manchester.
Oasis had been signed by Creation, and were supporting The Real People at the Crazy House. After the gig I took them to the studio to drop off their equipment. They had booked in for four days to record some B-sides, before beginning their album. On the third evening The Griffiths brothers Tony and Chris, who were the Real People, turned up to listen to what their mates had done, but were unimpressed by what they heard. Noel tried to justify the songs saying they were only B-sides. Tony then explained that there are no B-sides any more, because all the tracks are on the same side of the CD. Tony then asked what the track was that they had been jamming earlier. It was decided to finish this song and the lyrics were written that night in the control room. The engineer for the session was Dave Scott who was the proud owner of a rather large Rottweiler called Elsa, who was prone to flatulence, and would often spend her time in the control room on her back. The drinks in the studio were always taken into the control room on a large silver tray, and on this occasion there was a half eaten packet of Alka-Seltzers on the tray. These images contributed to the immortal lines:
I know this girl called Elsa
She's into Alka-Seltzer
She sniffs it with a cane
From a supersonic tray (changed to train)
This was around the same time that Karl Bartos came to visit Andy at the studio. I think they were collaborating on some music, so Andy arranged to take him out on Saturday night to the State, which had become a famous dance/rave venue in town. Unfortunately the bouncers would not allow them in because they both had white jeans on. How ironic that one of the founders of dance music should be discriminated against by the ignorance of some Liverpool doormen.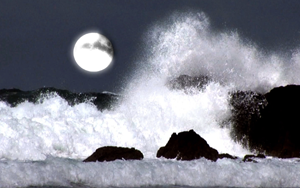 How did you start out working in video production?
After 20 years of owning a recording studio I'd had enough. It got to the point where the studio felt like a large elephant hanging round my neck, especially as I had come from a creative music background. Fortunately Andy was glad to take it off my hands and keep it alive, and because of his financial situation he was under no pressure to run it as a commercial facility. In Jan of 1999 my daughter Kiki was born and I found myself taking a long break to look after her. It was during this time that my links with Martin O'Shea my junior business partner, who had begun managing Atomic Kitten, were severed. Unfortunately this was an acrimonious parting and another interesting story in itself.
After about eighteen months of looking after Kiki I awoke one morning and decided to to make films. Rather a strange scenario for someone of my age, but once I put my mind to something, it happens. Fortunately for me the same digital revolution that had happened in music in the mid 80s, that allowed musicians to make music in their bedrooms, was now happening in the film industry. I enrolled at the Arts Centre at Liverpool Community College for two years, and then did an MA at ICDC (International Centre for Digital Content ) part of John Moores University. Within three months of my decision to enrol, I had made a video for Echo & The Bunnymen, which went on their Live DVD performed at LIPA, and a series of films for a theatre production called Verity Taylor. I set myself a target to make three feature films within the next ten years. The first one is called Addictions, which is a story about an angel who has lost his faith and has to come down to earth to rediscover it, by bringing about a change in five people who are all addicted to different things. I made some shorts along this theme and kept in touch with Andy, meeting up on a couple of occasions to look at my work.
Where did the idea for adding the projection screens for the OMD tour come from?
Towards the end of my MA at ICDC, I had developed the shorts into a feature length script, and was trying to raise money to further develop the project when I approached Andy in Oct 0f 2005. Unfortunately Andy had some cash flow problems but told me he may have some work for me the following year. He then told me of his plans to reform OMD and to tour, and was interested in using back projections. The basis for this being that the spectacle of two guys standing still behind their keyboards for nearly two hours, whilst Andy danced around, would not be very exciting. I think Andy also felt that to reform OMD was a special event, and that giving something new to the many fans that would see the shows was important. I went away and worked on an idea for 'Electricity', which Andy liked, so we shook hands and I was invited back to work in the Motor Museum. Unfortunately the project could not begin until the following April, but this gave me some time to research the project and to see what other people were doing.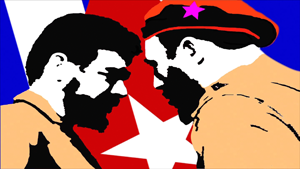 What was the process for creating the visuals? Do you favour any particular software packages?
The process initially involved sitting down with Andy and getting a brief for each song. For example the brief for 'Talking Loud and Clear' was flowers, for 'So In Love' it was the Mexican day of the dead, and for 'She's Leaving' it was neon lights. It was funny because Andy's brief for 'Maid of Orleans' was stained glass windows, but I mistakenly applied this to 'Joan of Arc', which looked great, so we went with that. In real life the stained glass window used for 'Joan of Arc' is actually very small, measuring two feet by one foot six, that came from the Spion Kop in South Africa, and now lives in the church of St Peter & St Paul, in Warsop, near Nottingham in which is listed in the doomsday book. The other angel images used in 'Joan of Arc' also come from this church. After a while I realised what a great honour it was to be creating images and visuals for songs that millions of people had already heard and loved, so it was with great enthusiasm and respect that the films were created.
When I needed to source original footage such as the church in 'Maid', the flowers in 'TLC', or the sea in 'Sealand', I would shoot on a Sony Z1E which is a budget hi-def camera. All the other images were computer generated, or sourced through the internet, and worked on at a hi-def rate. The actual editing software was Final Cut Pro, used alongside other packages like Motion, Arkaos, Particle Illusion, Photoshop, and After Effects. It was very much like painting a picture, the hardest part was getting the concept right and putting down the first outline brush strokes. Some things were created with one package, then put into another then finally brought into Final Cut to edit. For example in 'Georgia' images were compiled in Photoshop then put into Arkaos or Motion, to create movement, then edited in Final Cut. It was very much an experimental approach that was taken with creating most of the images. When I had a rough cut Andy would pop in and have a look, giving suggestions and feedback. The main concept that developed early on was to avoid too much fast movement, because Andy was always concerned that the images may detract from the band onstage.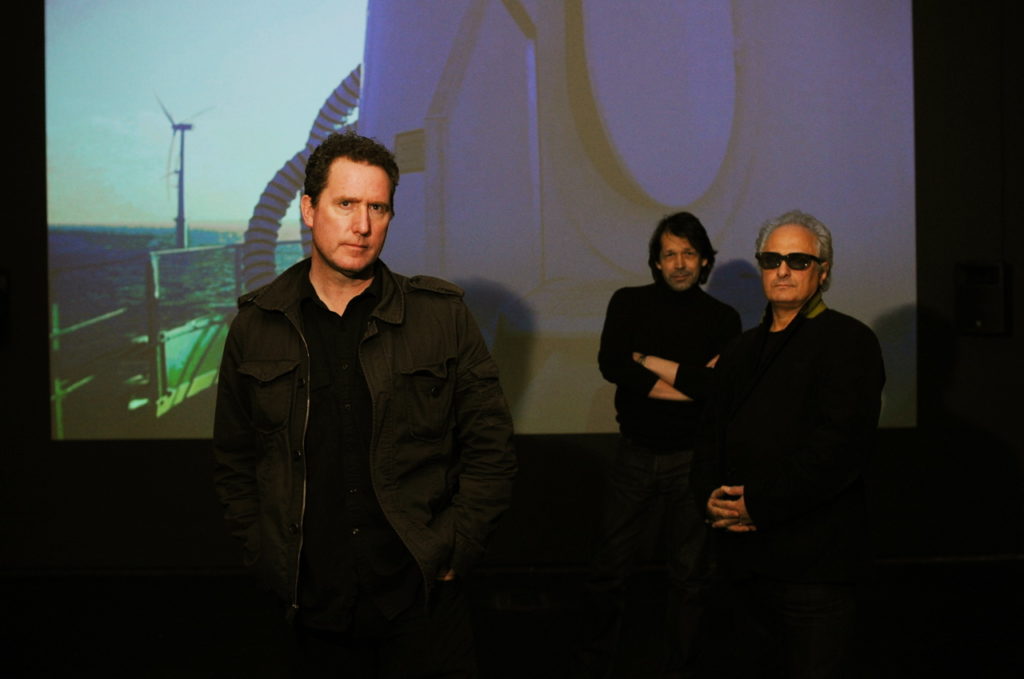 Another project that began a month after starting work on the backdrops was The Energy Suite. Peter Saville had contacted Andy about an art installation suggesting 'Stanlow', but as Andy had already covered this subject, he came up with the idea of an installation about power generating sites. I was invited to join the project and spent a lot of the summer of 2006 traveling up and down the coast with Andy researching Power stations. From Heysham which is a nuclear station up north near Lancaster, to Dinorwig which is in Llanberis in Wales, the stations form an arc around the Irish Sea. It was fortunate that a lot of the managers of the power stations were big OMD fans so that helped a lot with gaining access to film. Andy in collaboration with Stuart Kershaw has written five orchestral pieces incorporating sounds recorded at the power stations. I have finished the five main films and have been meeting with Peter Saville to tweak the edits before working on variations of the films, which will be shown on a triptych of smaller screens to the side of the main large screen. This installation will take place in FACT Liverpool from the 12th December 2008 until the 12th February 2009.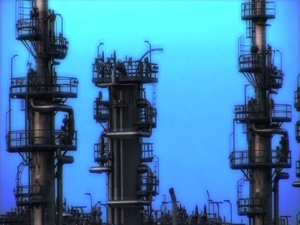 One of the images from Heysham and some of the out takes from Point of Ayr were actually used in the film backdrop for 'Architecture & Morality', along with some photographs that Innes Marlow, an OMD fan, had offered for use from his portfolio.
'(Forever) Live and Die' was one of the few songs that had no brief. So I used one of Innes's photographs, already used in 'Architecture & Morality', and messed it up to such an extent that even he did not recognise it. I think this is one of my favourites because the whole film is made from one image. Towards the end of making the films for the tour I needed to use some 3D imagery, so fortunately I met Nathalie G whilst getting some lunch in the Lane one day. I had not seen Nathalie for many years, so when she told me that she had moved from photography to creating 3D imagery, we arranged to hook up and look at her work, which I liked. So some of her work appears in 'Sailing On the Seven Seas', 'Locomotion', and 'Walking On the Milky Way'.
Are you happy with how the visuals turned out for the live shows?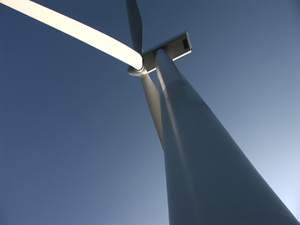 I had only seen the films on a computer screen, when Andy returned one day after visiting CTS and seeing some of the films on a Mitrix screen. He was blown away, but it wasn't until Andy and I had traveled down to XL three months later to make a final decision on the type of screen to use that I was able to see the films on a large screen. We had gone down with Gary Hodgson who was operating the onstage computers, and the Hippotiser, which was the server that was storing all the films for the projections. It was quite stunning, but it was only when I saw the films at the first show with a live audience in Dublin, that I felt that I had done my job, and was amazed to hear people talking about the films in the audience. Although this was the first time I had done something like this, I feel it has been a great success and has certainly taken the OMD show to a new and exciting level. I feel respect has to be given to Andy for taking the risk and having the vision to do this, against the advice of his management and accountants. I guess he could have just gone out with the standard light show played the shows and taken the money, but I feel by doing this he has shown that once again OMD are at the cutting edge of performance art, and have created a great platform on which to continue their musical career.
You're working on the live DVD, what approach do you take to make the footage look visually interesting and also convey the excitement of a live concert?
I think that anyone who attended the concerts will agree that the visuals were an integral part of the show. I feel to convey what was seen at the shows, it is important to treat the concert as an Art Electronic Pop performance rather than a rock performance. I think the original edit has tried to portray OMD in a formulaic rock and roll fashion. OMD as we all know are not a rock band, so to cut the show that way is to misrepresent what was performed. I have so far edited 'Maid of Orleans' and 'New Stone Age' by cutting between the films and the live show, and both Andy and I feel it works very well, although there are some discussions going on as to when the edit will be completed.
What music do you listen to these days?
At the moment I am into Arcade Fire, Sigur Ros, and The Killers who I also want to do projections for.
---
In 2008, when this interview originally took place, Hambi had been working on further projection work alongside Stuart Kershaw – notably a series of Mandalas, digital moving images which had been exhibited in amongst other places Princes Ave (open air on huge screens), the Bluecoat and the Fact. Stuart Kershaw composed the music for two of the Mandalas and Hambi had also planned to create one for the 2012 London Olympics.
"I have completed two Mandalas which Stuart Kershaw composed the music for and I am looking to create one for the London Olympics. I will initially be doing a pilot using the athletes that have returned from Beijing, then hopefully a huge one with all of the UK athletes that will be competing in 2012."
Click on the thumbnails below to see sample images of Hambi's Mandala work.
---
This interview originally appeared on the Official OMD Website on 12th September 2008
Revised text 26th January 2014
---