Orchestral Manoeuvres
As part of OMD's 40th Anniversary celebrations, the band's forthcoming performances with the Royal Liverpool Philharmonic Orchestra will also be featured on a new live album.
The October concerts will see the first reunion with the RLPO since their original collaboration back in 2009. OMD have been keen for a return bout for some time, something which Andy McCluskey discussed in an interview in 2013: "…the RLPO definitely want to work with us again and we definitely want to work with them".
As with that performance, the October concerts will feature orchestral arrangements of OMD songs, including tracks from the latest outing The Punishment Of Luxury as well as rare B-side tracks and, more surprisingly, songs that have never been played live before.
Richard Balcombe will conduct the concerts, which coincide with the anniversary of OMD's first gig which took place at Liverpool's legendary Eric's Club in October 1978.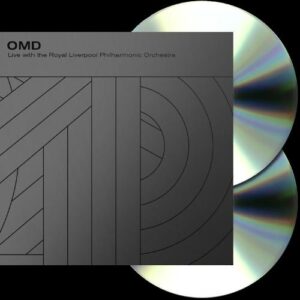 OMD have confirmed that compositions such as 'Stanlow', 'Sealand' and 'Ghost Star' will feature. These big ambient pieces will be receiving specially-created orchestral arrangements, by Ian Stephens and Gary Carpenter. Much of OMD's classic singles will also be performed, including 'Enola Gay', 'Souvenir' and 'Electricity'. Plus, the concerts will see the performance of a new instrumental piece entitled 'And Then She Saw The Minotaur' from an as-yet unreleased film soundtrack.
OMD's previous work with the orchestra delivered some intriguing versions of classic hit singles (as well as an orchestral performance of The Energy Suite). But that 2009 collaboration also produced some powerful moments, such as 'Native Daughters Of The Golden West' – a track originally featured on their 1985 album Crush – that benefited from the sweeping orchestral arrangement.
As a band, OMD have been very reluctant to release live recordings in times past. They broke from this tradition in some ways with the 1982 release of the Live at the Theatre Royal Drury Lane video. However, this was as much a showcase of Architecture & Morality's live visuals as well as capturing live versions of OMD songs (some of which were later dubbed over in a bid to get as pure a sound as possible).
In fact, bootlegs aside, it wasn't until the release in 2008 of the OMD Live: Architecture & Morality & More album that OMD finally committed to a dedicated live album. Since then, the prospect of live albums hasn't been as daunting for the band. Their 2014 Museum Of Liverpool performance was a case in point. As with the MoL album, the new RLPO recordings will be funded by pre-orders on OMD's PledgeMusic site.
The new live album will also be available in several versions. This includes a "Best Of" double CD release featuring the best recordings from both nights (which will be released in December). A triple vinyl version will also be made available.
For those keen to get their hands on the recordings earlier, "On The Night" versions will feature a full, uninterrupted recording of the shows in October and available in the days following the show.
A special bundle of the "Best Of" 2CD and 3LP formats is also available. Additionally, those attending the shows can purchase the "On The Night" CDs from the venue.
---
You can pre-order the albums via the OMD Store: https://store.omd.uk.com/
Also via the OMD PledgeMusic site: https://www.pledgemusic.com/projects/omd-live-at-the-philharmonic-hall-2018