If there's one thing that has stood out with the launch of OMD's 2013 album release English Electric
it's the design aspect of the album and subsequent releases. From the FAC6 homage of the limited edition metal box set to the eye-catching 10″ picture disc EP for The Future Will Be Silent through to the industrial sensibility for the sleeve to 'Dresden', this current OMD phase has been marked by some notable artwork.
Designer TOM SKIPP has previously worked on designs for a variety of music outfits such as Kasabian, The Music and The Invisible, but this marks his first work for OMD. Messages chatted to Tom about the design process involved with English Electric
and working alongside legendary OMD and Factory designer Peter Saville…
---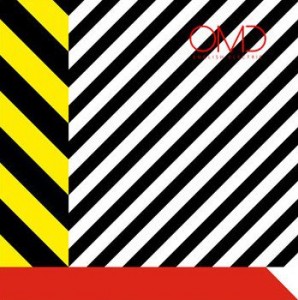 How did you get to be involved in the design for English Electric
?
Andy McCluskey had contacted long-time friend Peter Saville about OMD's new album English Electric
. I have worked with Peter for over ten years but he no longer takes on such projects. Peter passed on some of the songs and the project excited me, I got in contact with Andy and we started discussions.
Was there a very specific brief for the album?
There wasn't a specific written brief. It was much more a soundscape in which the design would inhabit, Andy has a very reductive visual sensibility which guided the process.
Can you describe the role that Peter Saville had in the design process?
Peter Saville would take the role of advisor to Andy and myself. I would make work that I would discuss with Peter, given Peter's history with OMD. Then I'd present the work to Andy, and then we'd all discuss things and I'd progress the work based on those discussions.
Did the design of the sleeve go through many radical revisions?
There were many routes that the album sleeve could've taken. There were options that were based more strongly on the English Electric
reference of the jet fighter and the Delphic Engine. We steered towards a more minimal graphic given Andy's response to the visuals. There was a point when we had a final album visual but we all agreed that it wasn't quite right, so it was back to the drawing board!
The design of The Future Must Be Silent EP is very different from the English Electric
sleeve. Was this a conscious decision on your part or a direction from OMD?
The Future Must Be Silent EP was always going to be something special that appeared for Record Store Day. It made sense to me that it should be different from the album and singles, even if it was based on the same elements. I was very passionate about the illustrations that I'd created that had more of a layered feel and I pushed them to the fore when we discussed this released. Happily everyone gave approval for this.
Were there any particular design challenges with the various English Electric formats and releases?
There are always challenges when there are timelines to adhere to. Ordering the manufacture of the box for the box set had to be done very early on. We hadn't finalised a cover for the album, so we had to discern what the elements would include 2 months before we designed the album cover itself.
What were your thoughts on the songs themselves? Did that have a bearing on the design in any way?
I perceived the songs as being futuristic and hopeful, of a new dawn and brighter future, which had a definite bearing on the design. The expansive sonic planes were described throughout the work with the never-ending horizons and skyline gradients that were used throughout the artwork.
---
Messages gives its warmest thanks to Tom Skipp.
www.tomskipp.com
www.omd.uk.com
English Electric
was released on 8th April 2013 on 100%. The album is available to order from the Official OMD Website here: http://omd.firebrandstore.com/
The Messages review of the album is here: English Electric – The Messages Review
OMD's 2013 UK tour with special guests JOHN FOXX & THE MATHS includes:
Margate Winter Gardens (28th April), Birmingham Symphony Hall (29th April), Nottingham Royal Centre (1st May), Ipswich Regent Theatre (2nd May), London Roundhouse (3rd May), Bristol Colston Hall (5th May), Oxford New Theatre (6th May), Sheffield City Hall (8th May), Leeds Academy (9th May), Manchester Academy (10th May), Glasgow Royal Concert Hall (12th May), Gateshead Sage (13th May), Liverpool Empire (14th May)
The Benelux shows featuring special guests METROLAND include:
Utrecht Tivoli (17th May) and Brussels Ancienne Belgique (20th May)
The German tour with special guests VILE ELECTRODES includes:
Hamburg Docks (21st May), Bielefeld Ringlokschuppen (22nd May), Berlin Tempodrom (24th May), Leipzig Haus Auensee (25th May), Köln E-Werk (27th May)
Interview by Paul Browne
26th April 2013
---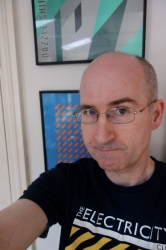 Paul spent his formative years indulging in fanzine culture before branching out to graphic and web design in later years via his Arc23 outlet. Responsible for the creation of the original Official OMD Website, Paul also spent over 10 years administrating the site as well as providing sleeve notes for many of the OMD reissues.

Publications that have featured his contributions include Electronic Sound, Metro, Japan Update Weekly, J-Pop Go, Wavegirl and The Electricity Club.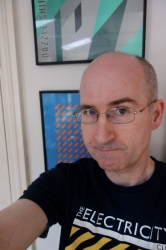 Latest posts by Paul Browne (see all)