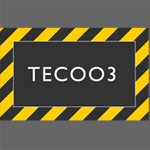 On Saturday 13th September, our sister site The Electricity Club will present the TEC003 event at Hertford Corn Exchange.
The event will be headlined by VILE ELECTRODES while support will be provided by DEPECHE MODE tribute band SPEAK & SPELL (playing DM's debut album Speak & Spell in full!) and special guest DJ SARAH BLACKWOOD. In the afternoon (prior to the evening event) there will also be an exhibition of DEPECHE MODE memorabilia curated by fan club co-founder Deb Danahay – entry to this will be free.
Additionally after VILE ELECTRODES' set, there will be an aftershow party featuring an extra set by SPEAK & SPELL playing highlights from the DEPECHE MODE's 101 album; the plan is to feature some special guest vocalists – entry for the aftershow party will be free to TEC003 ticket holders already attending the event.
Tickets for the event are £14 in advance (£16 on the door) and you can read up more on the event and order tickets via the dedicated TEC003 events page over on The Electricity Club… More Inside »