That Was Then
"Looking back at my life in the place where it all began" – OMD, Mathew Street, 1996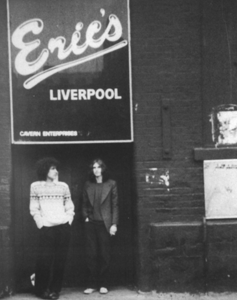 The importance of Eric's on Mathew Street, Liverpool can't be emphasised enough; not just for its cultural and historical significance in the punk era in the late 70s, but also due to the fact that OMD simply wouldn't have existed without it; a fact recently confirmed by the reformed synthpop pioneers. Without the avuncular Roger Eagle's mentoring, and a serendipitous meeting with future manager (and van owner!) Paul Collister, it's difficult to speculate as to what would have happened next without such key players in OMD's history.
Eric's has steadily gained legendary status over the years. More recently there has been Eric's The Musical which was performed during Liverpool's European Capital of Culture year in 2008, and a book (sub-titled "All the best clubs are downstairs, everyone knows that") by Jaki Florek and Paul Whelan which was published in 2009.
Eric's first opened its doors in October 1976, and was named after the jazz musician Eric Dolphy. Its founders were the aforementioned Eagle, Ken Testi and Pete Fulwell. Eagle had moved to Merseyside in the early 70s and was involved in converting an old boxing venue (Liverpool Stadium) into a popular concert hall, which performers such as David Bowie and Lou Reed would play at. He also helped to set up Probe Records in the centre of Liverpool when it moved locations in 1976. Liverpool's famous record shop would become a popular meeting place for aspiring local musicians, and Merseyside luminaries such as Pete Wylie and Paul Rutherford also worked there for a time.
The first band to play at Eagle's latest venture was The Stranglers, the first of a number of punk rock bands to play in this iconic venue. The likes of The Sex Pistols, The Clash, Generation X (featuring Billy Idol), The Damned and The Buzzcocks would all play at Eric's. Other notable acts included Joy Division, Ultravox, Simple Minds, Cabaret Voltaire, Elvis Costello, Siouxsie and the Banshees and, hard to believe now, an up and coming 4-piece rock band from Dublin named U2! And, of course, a cavalcade of local talent flowed through its famous doors…
Roger Eagle certainly seemed to have a knack for booking bands on the brink of mainstream success, and one of these bands was a preposterously named band from the Wirral called Orchestral Manoeuvres in the Dark. Of course, Eric's wasn't averse to featuring bands with outlandish names. The 'Crucial Three' of Ian McCulloch, Julian Cope and Pete Wylie would all cut their musical teeth here with, respectively, Echo and the Bunnymen, The Teardrop Explodes and Wah! Heat. In fact, viewing a list of local acts that played at this world famous venue almost reads like a who's who of the Merseyside music scene that blossomed in the late 70s and early 80s. Other frequenters of this scene included the cult band Big in Japan, whose members included Holly Johnson (later of Frankie Goes to Hollywood) and Ian Broudie (Original Mirrors, Care and The Lightning Seeds), as well as Bill Drummond who would later start Zoo Records, form the KLF and controversially burn a million pounds! And there was also Nightmares on Wax featuring the charismatic Pete Burns, who would later achieve great success with Dead or Alive.
Eagle, who sadly passed away in May 1999, had previously booked The Id, something of an embryonic OMD, whose members included Andy McCluskey, Paul Humphreys and Mal Holmes. Eagle saw enough potential in The Id to encourage them to record some demos (immortalised on an EP that was eventually released in 2002), and would continue to mentor its creative nucleus of McCluskey and Humphreys (who traded for a while as VCL XI). Crucially, singer and bassist McCluskey was at something of a musical crossroads in September 1978. The Id had split, despite their early promise, and his involvement in fellow Liverpudlian cult favourites Dalek I Love You proved to be ephemeral. But he was soon to renew his creative alliance with school friend Humphreys, and a breakthrough was just around the corner…
Paul Collister owned a TEAC A344 4-track recorder, affectionately known as Winston, and possessed enough technical nous to engineer some backing tracks for McCluskey and Humphreys to use during a live set. These early recordings were made in Collister's garage, later christened Henry's after his middle name. Dalek I Love You had already proved it was possible for substitute a drummer with backing tapes during live performance, and the pioneering synth duo were sufficiently inspired and enthused enough to roadtest their mixture of electronic experimentation and melodic soundscapes at a suitable outlet…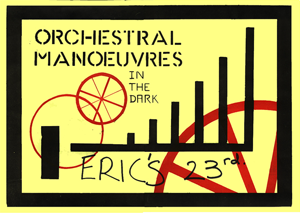 McCluskey and Humphreys already had live experience at Eric's with The Id under their belts and the venue was the logical place to test their material, which at that time included the likes of 'Electricity' and 'Red Frame/White Light'. The fledgling duo booked themselves a slot in the converted cellar in the autumn of 1978, the precise date of which remains something of an unsolved mystery. Their official biography states it was on the 12th October 1978 but there is evidence to suggest it may have been 2 weeks prior to this.
Whatever the date, the evening was originally meant to be more an exercise in self-indulgence rather than a showcase for the duo's creative talents. To announce their rather pretentious intentions, the duo used an absurd moniker to emphasise that this was a one-off gig, little knowing that it would actually be something of a hit amongst the throng of family, friends and the curious onlookers seeking an antidote to the punk sound they'd been accustomed to. And so Orchestral Manoeuvres in the Dark had officially begun their journey. Eagle was sufficiently impressed to steer the duo in the direction of Factory Records owner Tony Wilson and the rest, as they, is history…
This Is Now
[su_quote]"Eric's is dead. If you want to celebrate it, lay a gravestone in Mathew Street, put flowers on it if you want, but don't dig it up" – Jayne Casey (Liverpool Confidential)[/su_quote]
Fast-forward over 31 years on from the closure of Eric's in March 1980 and the Eagle has relanded. McCluskey and Humphreys are back to relaunch Eric's, generously helping its enthusiastic musical director Ethan Allen to put the refurbished club back on the cultural map. This won't be the first time the duo have visited the premise in recent years, having been filmed taking a nostalgic tour of the dilapidated venue for 2007's Souvenir documentary DVD.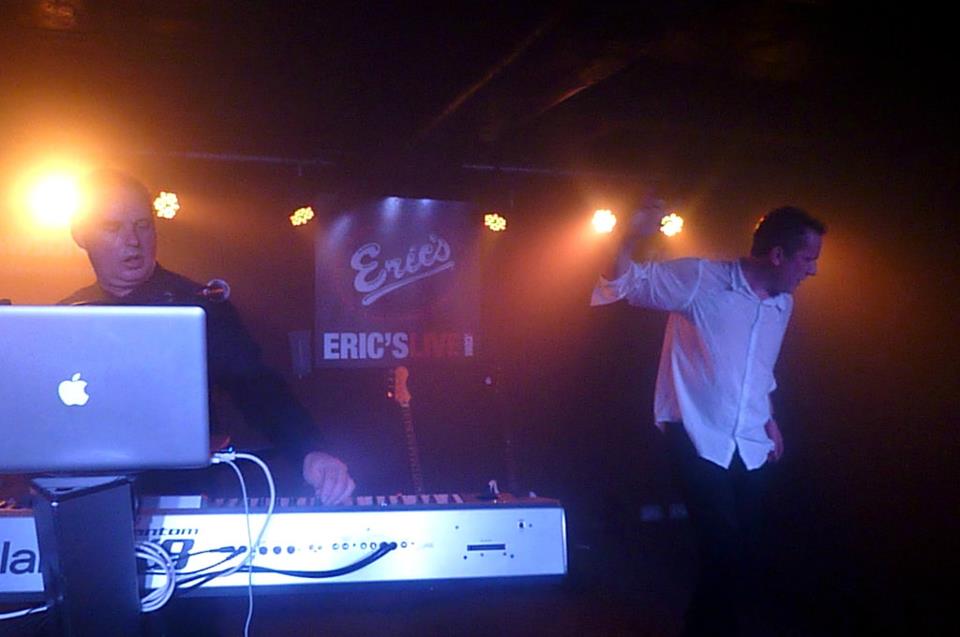 There has been much resistance to the reopening of Eric's, with many of the dissenters echoing Jayne Casey's above comments. Ken Testi, a former co-owner of Eric's said the new club would "at best be a pale imitation of the venue, at worst another pisspot for Mathew Street." And there are those claiming that the relaunch is little more than a clinical marketing exercise – with the club nestled neatly amongst an array of noisy pubs and clubs, and Beatles souvenir shops, it's a view shared by many. And, of course, there is the New Cavern Club opposite, which is certainly guilty of cashing in on a seemingly undiminishing demand for Beatles nostalgia. However, this particular venue has proved to be successful since it reopened its doors in 1984, following a substantial revamp following its demolition in the 70s; and its reputation appears to have remained intact. Indeed, Paul McCartney actually performed in the New Cavern Club in 1999, and there's no greater endorsement than that! The new Eric's club is not without its supporters either. The Sex Pistols' Glen Matlock recently told the BBC: "A good venue in the right place is hard to beat, I wish them well. Perhaps I'll even get to play there."
Other established acts confirmed to play at Eric's in the near future include The Christians and Terrorvision, and there are plans to invite back bands who played during the club's first incarnation. However, like its heady early days, it will also be an outlet for up-and-coming acts such as Kids on Bridges, a local trio of self-styled "filthy electropop" exponents who cite OMD as an influence. It seems appropriate that they provide the support for OMD during an invite-only gig on September 10th, and thus become the first act since the Psychedelic Furs in March 1980 to perform in the famous basement. BBC 6 Music's popular DJ Mark Jones provides a nostalgic array of tunes in between sets.
The venue has been faithfully recreated, although the stage has been lowered to prevent artists from bumping their heads on the beams (Elvis Costello famously banged his head on a beam and left the stage mid-set!). Original graffiti also adorns the walls where the dressing rooms once were.
By the time Humphreys and McCluskey arrive on stage just after 9.30pm, following a rousing introduction from Ethan Allen, the venue is heaving and the apparent lack of air conditioning makes for a rather uncomfortable (and sticky!) experience. However, all that is forgotten once the first strains of 'Introducing Radios' reverberate around the one-time storage area. It's a wonderful ode to the past, having first appeared on a 4-track EP that was originally given away with initial copies of Organisation in 1980 (the tracks had been recorded live at the Factory Club in Manchester, and at Henry's).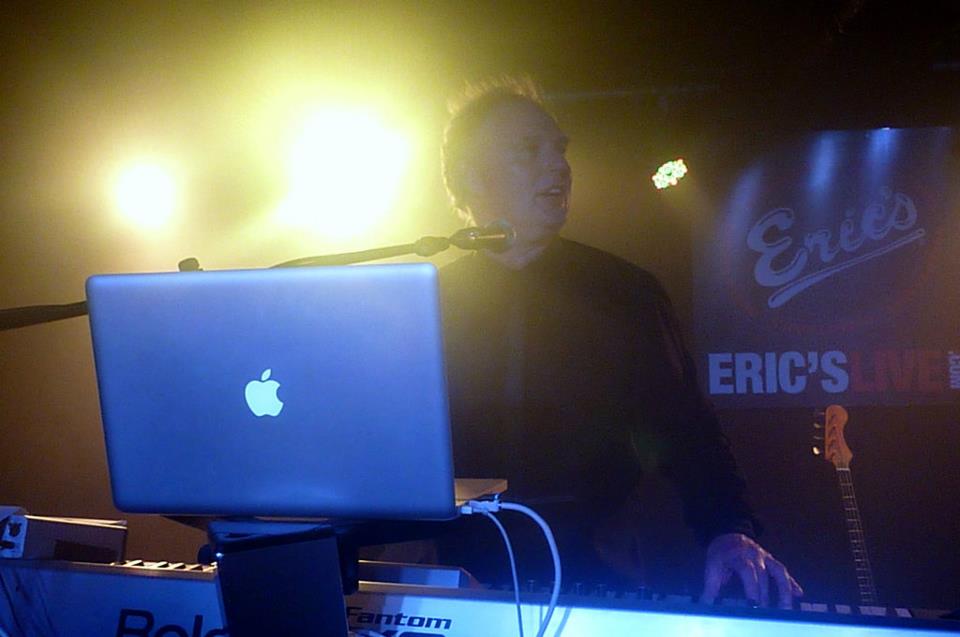 Whilst there is no Winston on stage (he's ensconced in a local museum), we do get Humphreys' laptop which has a low battery and has to be plugged in to the mains before it dies mid-set! There is a party-like atmosphere on and off stage, with McCluskey and Humphreys ostensibly revelling in the occasion and enjoying the break in between touring commitments in Europe and North America. The performance is raw as they sweat through obligatory set mainstays such as 'Messages' and 'Souvenir'; the musicianship is rough and ready but no-one seems to mind.
Understandably it's the material from the duo's formative years that draw the biggest cheers – it's an absolute pleasure to hear both sides of debut single 'Electricity'/'Almost' played back-to-back, but it's the inclusion of 'Julia's Song' that is the biggest surprise, having not been performed by any incarnation of OMD since the mid-80s. McCluskey looks nervous as he sings his former girlfriend's words in tandem with the familiar cyclical bass line, but it's a triumph.
The 35-minute performance isn't entirely about revisiting the past though, and the duo duly perform 2 of the best tracks from 2010's hit-and-miss comeback album. The 3-chord monster that is 'History of Modern (Part I)' is a veritable tour-de-force; its memorable and instantly recognisable melody ingraining itself in the conscience just like the material from their heyday used to. The beautiful 'Green' is a far more emotional affair, with the Roxy Music-inspired coda paving the way for the now-traditional 'pastoral' sequence in the show that ends with 'Maid Of Orleans'.
Appropriately, a truncated 'Once When I Was Six' closes the set with its juxtaposition of haunting melody and Dave Fairbairn's memorable "you have been listening to…" spoken words. We don't quite get the encore we hoped for, but another run-through of 'Electricity' is gratefully received. What the future holds for this iconic venue remains to be seen, but it's certainly been relaunched in style.
---
OMD gig pics by Lori Tarchala