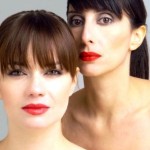 Some artists take a sympathetic approach to the remix opportunity and offer beat enhancements, extra melodic parts and instrumental breakdowns to compliment a track in a far more classic tradition. RICHARD X, MARK REEDER, PET SHOP BOYS, THE MANHATTAN CLIQUE and FREEMASONS have proved to be fine purveyors of this more accessible song based interplay.
But one duo who outstrip them all with their digi-electro style are Athens based synthgirls MARSHEAUX. Together with their producers FOTONOVELA, Marianthi Melitsi and Sophie Sarigiannidou combine their best synthpop sensibilities with both feet on the dancefloor to deliver some of the best received pop styled remixes of the last ten years with many established artists among their portfolio.
Andy McCluskey has previously declared his love of MARSHEAUX and this led to a partial collaboration for a cover/remix of the classic She's Leaving
.
Read more about MARSHEAUX's remix work, which also features HURTS, MIRRORS, KATY PERRY, THE HUMAN LEAGUE, DEPECHE MODE and MOBY in this in-depth feature: http://www.electricity-club.co.uk/html/marsheauxbest.html [via The Electricity Club]